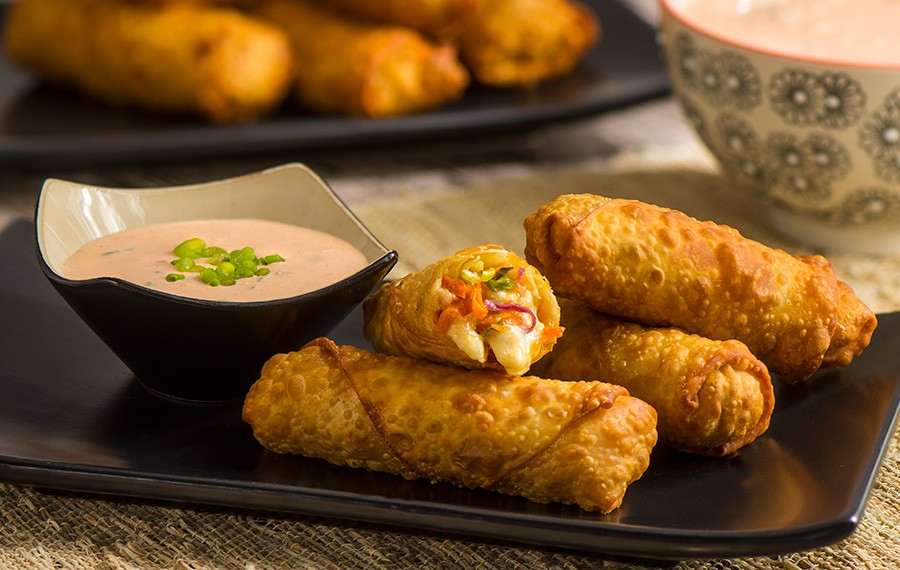 Chicken Egg Rolls
by
V & V Supremo Foods, Inc.
These chicken egg rolls are fabulous to enjoy as an appetizer or an accompaniment to your dinner. They're sure to delight you and your whole family!


Ingredients
¼ lb. ground chicken

⅛ tsp. cayenne pepper

¼ tsp. ground ginger

¼ + ⅛ tsp. garlic powder

1 + ½ Tbsp. teriyaki sauce (separated)

1½ + 1 Tbsp. scallion, chopped (separated)

2½ cups + 2 Tbsp. vegetable oil (separated)

1¼ cup green cabbage, thinly shredded

1/3 cup purple cabbage, thinly shredded

3/4 cup carrot, shredded

2 cups Shredded Chihuahua® Brand Quesadilla Cheese from V&V SUPREMO®

½ cup Grated Sierra® Brand Cotija Cheese from V&V SUPREMO®

12 egg roll wraps

1 egg, whisked
WHERE TO BUY
Missing some of the ingredients produced by VV Supremo? Find the nearest store in your area:
Find Store Now!
6 Steps to complete
1

Sriracha Cream: In a small bowl combine sour cream, cotija cheese, sriracha, scallion, and salt. Stir to combine and set aside.

2

In another small bowl, combine chicken, cayenne pepper, ginger, garlic powder, ½ Tbsp. teriyaki sauce, and 1 Tbsp. scallion.

3

Preheat a medium sauté pan for 1-2 minutes on high heat. Add in 2 Tbsp. of vegetable oil. Add chicken to pan and cook for 1½ minutes (break up chicken into small pieces). Add in green & purple cabbage, carrot, 1½ Tbsp. scallion, and 1 Tbsp. teriyaki. Sauté for 1 min and turn off heat.

4

Let mixture cool for 2 minutes. Add Chihuahua® and cotija cheese, mix thoroughly, and set aside.

5

Place one egg roll wrap on a work surface with 1 corner facing you. Place about 2½ tablespoons of filling slightly below center of wrap. Fold corner of wrap closest to filling over filling, tucking point under. Fold in and overlap right and left corners. Gently roll egg roll toward remaining corner and brush egg wash (whisked egg) onto the corner and press to seal. Use this method for all 12 egg rolls.

6

Pour 2½ cups vegetable oil into a medium sauce pot. Set heat to medium-high and allow to reach 350°F (approx. 7 minutes). For best frying results maintain oil temperature between 350°F to 375°F. Fry eggrolls for about 1-2 minutes or until golden brown and place on paper towel lined tray. Plate and serve with sriracha cream sauce and enjoy!
Store Locator
Great Places You Can Find
Our Products

Find A Store Now!
Available At
Great Places You Can Find
Our Products