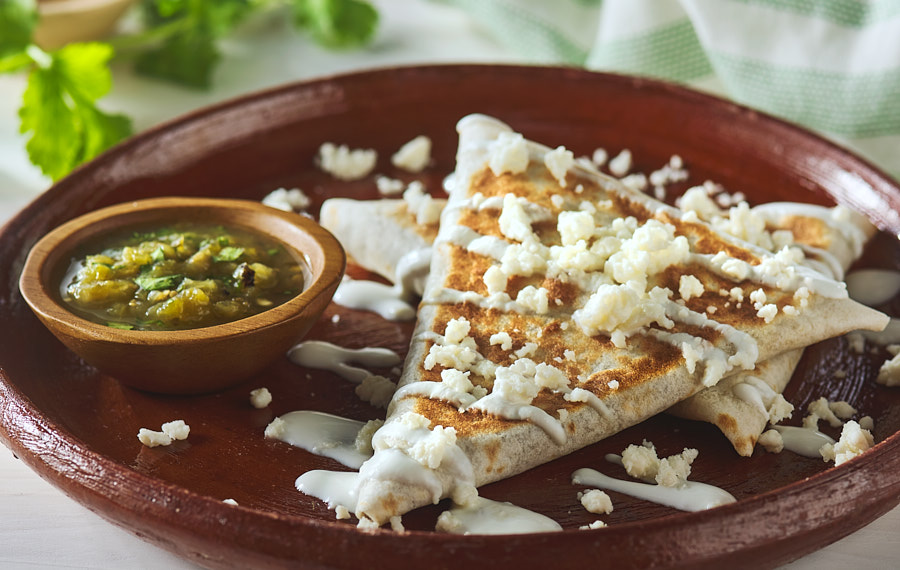 Chihuahua® Cheese Tetelas
by
V & V Supremo Foods, Inc.
Cheese Tetelas originate from Oaxaca, Mexico and are super easy to make! Fun triangle folded tortillas are filled with Chorizo, Chihuahua® Cheese and refried black beans.


Ingredients
½ link from (14 oz.) pkg. Supremo® Brand Pork Chorizo from V&V SUPREMO®

2 Tbsp. white onion, small dice

1 clove garlic, crushed

¾ cup canned refried black beans

1¼ cups Shredded Chihuahua® Brand Quesadilla Cheese from V&V SUPREMO®, divided

8 (6-inch) flour tortillas, warmed

½ cup Supremo® Brand Mexican Sour Cream from V&V SUPREMO®

½ (10 oz.) pkg. V&V SUPREMO® Brand Queso Fresco Cheese, crumbled

Salsa of your choice
4 Steps to complete
1

Preheat a large skillet for 1 minute over medium heat. Add Chorizo and cook for 4 to 5 minutes, crumbling with a spoon while cooking. Add onion, garlic, and cook for 1 minute. Stir in beans and cook for 1 to 2 minutes or until warmed through. Remove from heat and fold in 1 cup Chihuahua® Cheese. Cover and keep warm until needed.

2

Lay tortillas out on a clean work surface. Spread each tortilla with 2 tablespoons Chorizo refried bean mixture and ½ tablespoon Chihuahua® Cheese. Fold two sides inward to form cone shape. Fold the remaining edge to the center and form a triangle shape.

3

Pre-heat a griddle for 1 minute over medium heat. Toast tetelas for 1 to 2 minutes on each side or until tortilla is lightly browned.

4

Serve Chihuahua® Cheese Tetelas with Sour Cream, top with crumbled Queso Fresco, and your favorite salsa. Enjoy!
Comments
WHERE TO BUY
Missing some of the ingredients produced by VV Supremo? Find the nearest store in your area:
Find Store Now!
Store Locator
Great Places You Can Find
Our Products

Find A Store Now!
Available At
Great Places You Can Find
Our Products