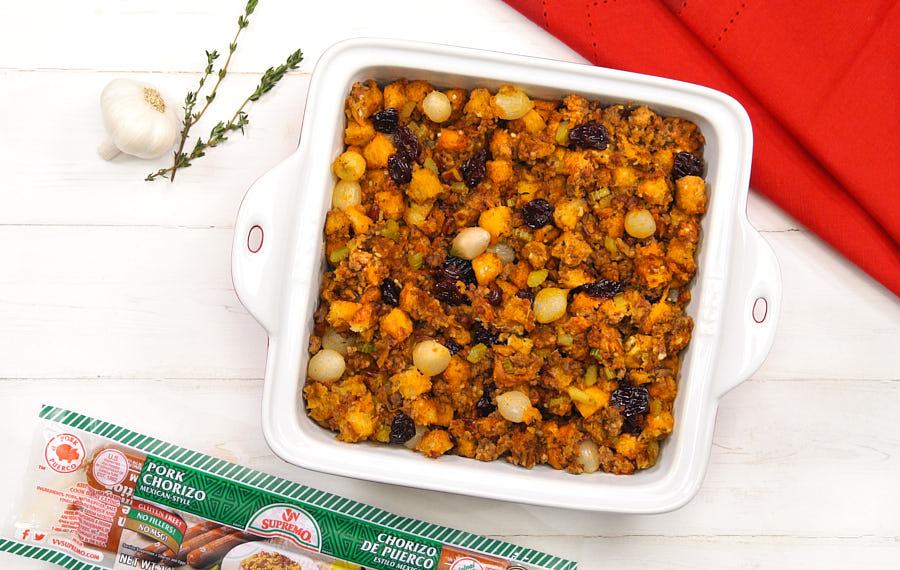 Chorizo Stuffing
by
V & V Supremo Foods, Inc.
Prepare this easy stuffing recipe! The combination of fresh herbs, bread and the distinctive flavor of pork or beef, chorizo, make this traditional side dish a delight!


Ingredients
1 link from 14 oz. pkg. Supremo® Brand Pork Chorizo from V&V SUPREMO®, no picante

3.5 oz. ground beef, 80% lean

3.5 oz. ground pork, 75% lean

1 Tbsp. unsalted butter, plus extra to grease the baking pan

1 cup diced celery

1¼ cups frozen pearl onions, thawed

½ cup chopped pecans

½ cup dried sour cherries

1 tsp. minced garlic

1 tsp. fresh minced sage

1 tsp. fresh minced thyme

1¼ tsp fresh minced parsley

4 cups stale sourdough bread cut into ½ inch cubes

4 cups stale brioche bread cut into ½ inch cubes

¼ cup Grated Sierra® Brand Cotija Cheese from V&V SUPREMO®

1½ cups chicken stock
5 Steps to complete
1

Preheat the oven to 375°F. Grease a 9 x 13 baking dish with butter. Set aside.

2

Place a large skillet over medium heat for 1 minute. Add chorizo to the pan along with the ground meats. Cook for 10-12 minutes; break up meat while cooking.

3

Transfer the cooked meat to a plate and set aside. Reserve the fat in the skillet. In the same skillet, melt the butter. Once fully melted, add the celery and sauté for 5 minutes. Add onions, pecans, cherries and sauté for 2 minutes. Add garlic, sage, thyme, and parsley and sauté 2 more minutes, stirring constantly.

4

Return the cooked meat to the skillet and mix well. Turn the heat to low and simmer for 2 minutes. Turn off the heat, and incorporate the brioche and sourdough cubes in small increments, while mixing. Combine thoroughly, ensuring that the bread absorbs all of the drippings. While the stuffing is being mixed, slowly incorporate the chicken stock a little at a time. Add Cotija Cheese and mix again.

5

Transfer the stuffing to the baking dish and evenly distribute. Cover the dish with foil and bake for 20 minutes, uncover and continue baking until golden brown approximately 10 minutes. Serve and enjoy!
Comments
WHERE TO BUY
Missing some of the ingredients produced by VV Supremo? Find the nearest store in your area:
Find Store Now!
Store Locator
Great Places You Can Find
Our Products

Find A Store Now!
Available At
Great Places You Can Find
Our Products