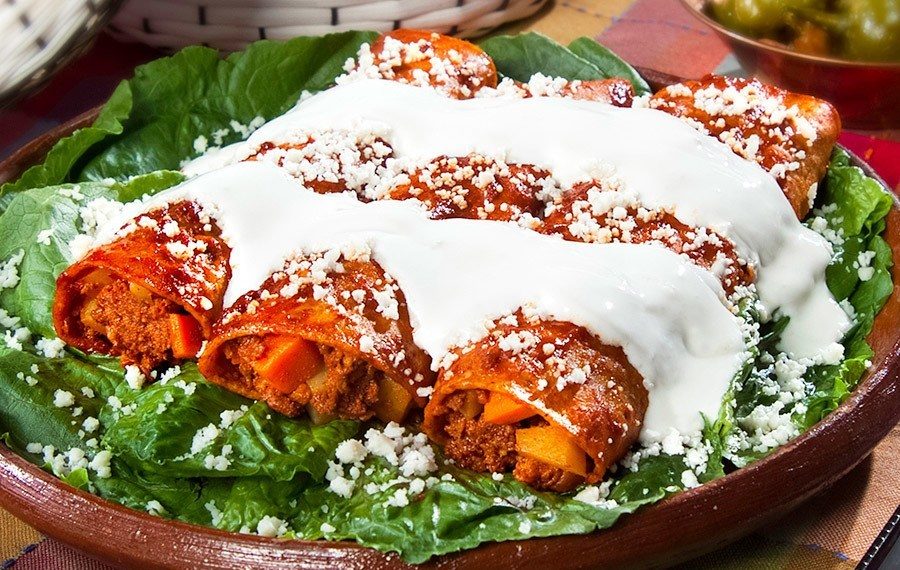 Enchiladas Morelia Style (with Chorizo and Potatoes)
by
V & V Supremo Foods, Inc.
Enchiladas are one of those dishes that are cooked differently in every home. Each cook has his or her own recipe. This enchilada recipe is sure to be a new family favorite.


Ingredients
6 guajillo peppers, cleaned, stems removed, seeds removed

1 ancho pepper, cleaned, stem removed, seeds removed

1 plum tomato, cut into quarters

1/8 medium white onion, peeled

1 garlic cloves, peeled, whole

2½ tsp. Kosher salt

1 ½ cups carrots, peeled, diced small

1 ½ cups russet potatoes, peeled, diced small

1 pkg (14 oz.) Supremo® Brand Pork from V&V SUPREMO®

12 corn tortillas

about ¼ cup Vegetable oil for frying

8 Romaine lettuce leaves

½ package of 8 oz. V&V SUPREMO® Brand Queso Fresco Cheese, crumbled

1 cup Supremo® Brand Mexican Sour Cream from V&V SUPREMO®
8 Steps to complete
1

Place dried peppers, onion and tomato in a small sauce pan. Add enough water to cover ingredients. (2 ½ cups) Place over medium heat. Bring to boil, turn heat to low and simmer for 10 minutes.

2

Carefully place contents of pan into blender, along with 2 tsp. salt and garlic clove. Remove center of lid from blender and place a kitchen towel over top to allow steam to escape. Blend at high speed for 1 minute or until smooth. Strain sauce into a medium bowl and reserve. (If you prefer to save 20 min. use your favorite canned enchilada sauce)

3

Place carrots and potatoes in a medium pot with ½ tsp. salt and enough water to cover. Place over medium heat. Bring to boil and cook for 5 minutes or until just tender, don't overcook. Remove from heat and drain. Set aside.

4

Preheat a medium skillet over medium heat for 1 minute. Add Supremo® Brand Pork or Beef Chorizo from V&V SUPREMO® and cook for 8 to 10 minutes, breaking up meat with spoon

5

Add cooked potatoes and carrots. Cook for 2 more minutes, stirring occasionally. Keep mixture warm.

6

Pour about ¼ inch oil into a medium skillet. Place skillet over medium heat. Once oil is hot, (350°F) use tongs to dip a tortilla in sauce, then carefully fry tortilla in oil for 10 seconds on each side. (Tortilla should still be soft.) Place on a baking sheet. Repeat process with remaining tortillas. (Add more oil if necessary.)

7

Fill each tortilla with 3 Tbsp. of chorizo mixture and roll up gently.

8

Arrange 2 lettuce leaves on each serving plate. Place 3 enchiladas and sprinkle 1 Tbsp. V&V SUPREMO® Brand Queso Fresco Cheese on top. Drizzle each enchilada with 1 Tbsp. Supremo® Brand Mexican Sour Cream from V&V SUPREMO®. Enjoy!
Comments
Related products
WHERE TO BUY
Missing some of the ingredients produced by VV Supremo? Find the nearest store in your area:
Find Store Now!
Store Locator
Great Places You Can Find
Our Products

Find A Store Now!
Available At
Great Places You Can Find
Our Products