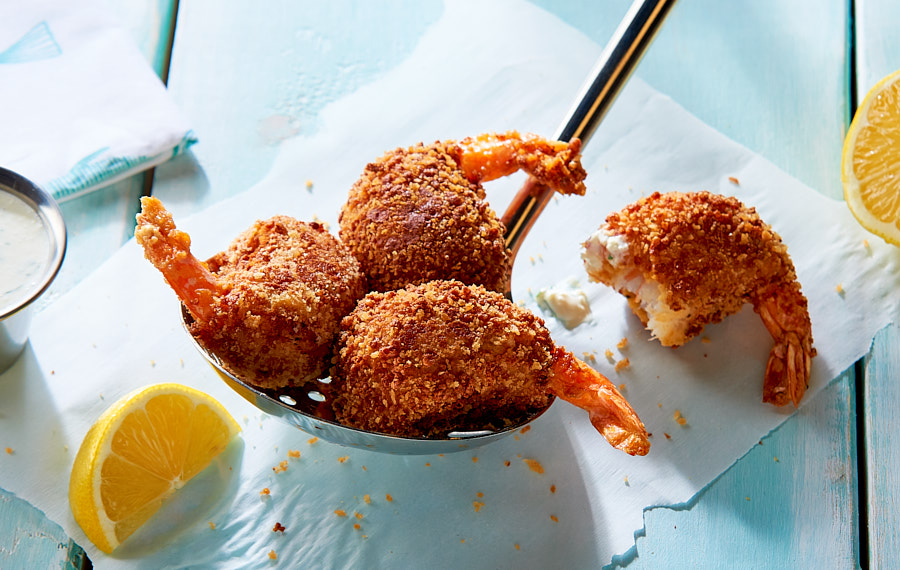 Fried Shrimp Potato Balls
by
V & V Supremo Foods, Inc.
What's for dinner tonight? Try these amazing Fried Shrimp Potato Balls recipe with our delicious Creamy Lemon Dipping Sauce.


Ingredients
Lemon Dipping Sauce
½ cup Supremo® Brand or Chihuahua® Brand Mexican Sour Cream from V&V SUPREMO®

¼ cup Grated Sierra® Brand Cotija Cheese from V&V SUPREMO®

1½ Tbsp. lemon juice

1 Tbsp. parsley, chopped

½ Tbsp. Dijon mustard

¼ tsp. kosher salt
7 Steps to complete
1

Lemon Dipping Sauce: In a small bowl, mix sour cream, cotija cheese, lemon juice, parsley, Dijon mustard, and salt together until well combined. Cover and refrigerate until ready to use.

2

Potato Mixture: In a medium saucepan, add butter, sour cream, paprika, salt, black pepper, onion powder, dried thyme, garlic powder, and Chihuahua® cheese, and cook on medium heat. Stir mixture until cheese is melted, about 2 minutes.

3

Add potato flakes and stir until well combined and mixture has come together. Transfer potato mixture onto a small plate or tray and cool for 2-5 minutes.

4

Shrimp: Season cleaned shrimp with salt and black pepper. Wrap each shrimp with 2 Tbsp. of potato mixture and shape into a ball, leaving the tail exposed.

5

Breading: Using 3 separate bowls, place ¼ cup of flour into one of the bowls. Add whisked egg with water into another bowl. Mix bread crumbs and ½ cup Cotija cheese into the third bowl.

6

Dip each shrimp potato ball in this order: flour, egg wash, panko/cotija mixture.

7

Add 1 qt. of vegetable or canola oil to a medium sized pot and heat on medium heat until it reaches 300°F (8 minutes). Fry shrimp potato balls for 5 minutes and drain on paper towel. Serve warm with lemon dipping sauce and lemon wedges. Enjoy!
Comments
Related products
WHERE TO BUY
Missing some of the ingredients produced by VV Supremo? Find the nearest store in your area:
Find Store Now!
Store Locator
Great Places You Can Find
Our Products

Find A Store Now!
Available At
Great Places You Can Find
Our Products