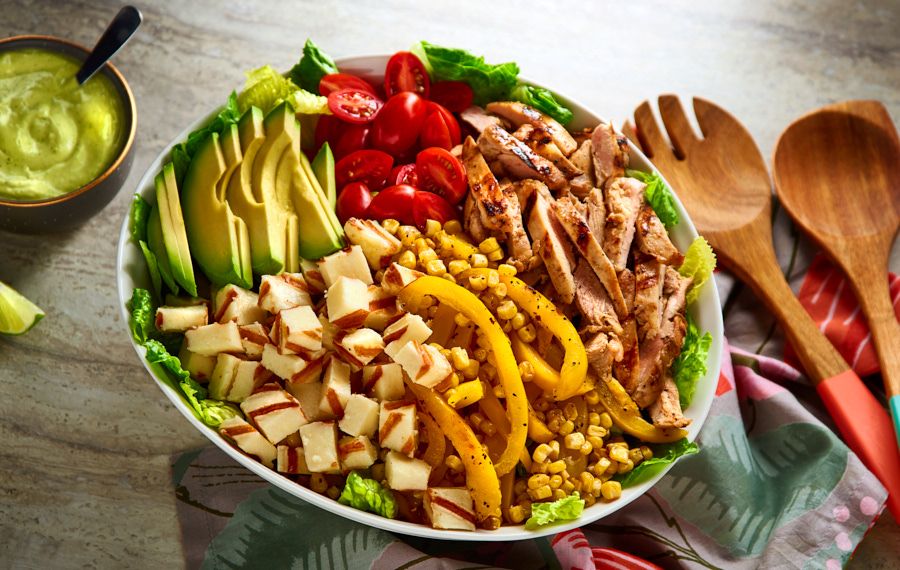 Grilled Tequila Lime Chicken Salad
by
V & V Supremo Foods, Inc.
Grilled Tequila Lime Chicken Salad is a great way to celebrate National Tequila Day. This bright summer salad has the delicious flavor of V&V Supremo paired with the powerful kick of real Tequila!


Ingredients
Tequila lime dressing:
3 Tbsp orange juice

¼ cup lime juice

2 Tbsp Tequila

1 Tbsp agave nectar

1 Tbsp olive oil

¾ tsp Kosher salt

1 tsp garlic powder

¼ cup Supremo® Brand or Chihuahua® Brand Mexican Sour Cream from V&V SUPREMO®

¼ cup cilantro

1 ripe avocado, peeled and pit removed, reserve ½ for salad
Tequila chicken marinade:
6 Steps to complete
1

Tequila Lime dressing. Place dressing ingredients into a blender and blend until smooth. Refrigerate until ready to use.

2

Chicken marinade: In a bowl, add all of the ingredients for the chicken marinade whisk until completely smooth. Add chicken thighs, cover, and refrigerate for a minimum of 2 hours, or overnight for best results.

3

Cheese: Preheat a cast iron skillet with the grill marks for 2 minutes over medium high heat. Cut Cotija wedges in half lengthwise, place halves in the skillet and sear each side for 30 seconds. When done, cut each slice lengthwise, then into small cubes. Set aside.

4

Chicken: Using the same skillet, grill pepper strips for 3 minutes. Add corn, lime juice, salt, black pepper, and grill for 3 minutes. Remove from the skillet and set aside to let cool.

5

Wipe off the skillet, grill chicken for 5-6 minutes each side. Once chicken is cooked, set aside and allow to rest for 4-5 minutes.

6

1. Cut chicken into strips and toss with chopped lettuce, peppers, corn, tomatoes, and cheese. Toss salad. Serve each portion with Tequila lime dressing and top with reserved avocado slices. Serve and enjoy!
Comments
Related products
WHERE TO BUY
Missing some of the ingredients produced by VV Supremo? Find the nearest store in your area:
Find Store Now!
Store Locator
Great Places You Can Find
Our Products

Find A Store Now!
Available At
Great Places You Can Find
Our Products