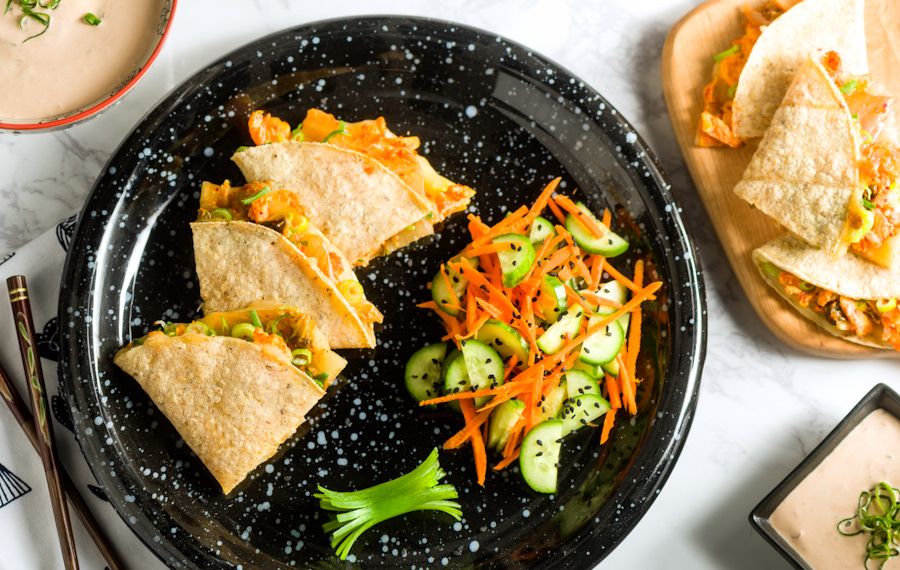 Kimchi Quesadillas
by
V & V Supremo Foods, Inc.
Kimchi is a spicy, fermented cabbage dish beloved in Korea. Chihuahua® is a rich and buttery melting quesadilla cheese. Combine the two for a mouthwatering mashup in this quick and easy recipe that is sure to spice up your quesadilla routine!


Ingredients
1 Tbsp. unsalted butter

1 ½ cups chopped kimchi

2 large eggs, whisked

1 tsp. sesame oil

6 Tbsp. diced green onions

6 corn tortillas

1 ½ cups Shredded Chihuahua® Quesadilla Cheese from V&V SUPREMO®
6 Steps to complete
1

Place a non-stick skillet over medium heat 1 minute. Add butter. After another minute, add kimchi to skillet and cook for 1 minute, stirring.

2

Add eggs to skillet. Cook, stirring occasionally until eggs are set, about 1 minute. Stir in sesame oil.

3

Preheat another skillet for 1 minute over medium-low heat. It's important that the skillet temperature is not too high, so that the tortillas do not harden or overcook before the cheese fully melts.

4

Place as many tortillas in skillet as will fit in a single layer. Warm tortillas for 30 seconds, and flip. Place ¼ Cup of cheese on each tortilla. Add 2 Tbsp. egg and kimchi mixture and 1 Tbsp. green onion to each tortilla.

5

Fold each tortilla in half. Cook until cheese fully melts, flipping occasionally.

6

Serve with Asian Cream Sauce.
Comments
Related products
WHERE TO BUY
Missing some of the ingredients produced by VV Supremo? Find the nearest store in your area:
Find Store Now!
Store Locator
Great Places You Can Find
Our Products

Find A Store Now!
Available At
Great Places You Can Find
Our Products