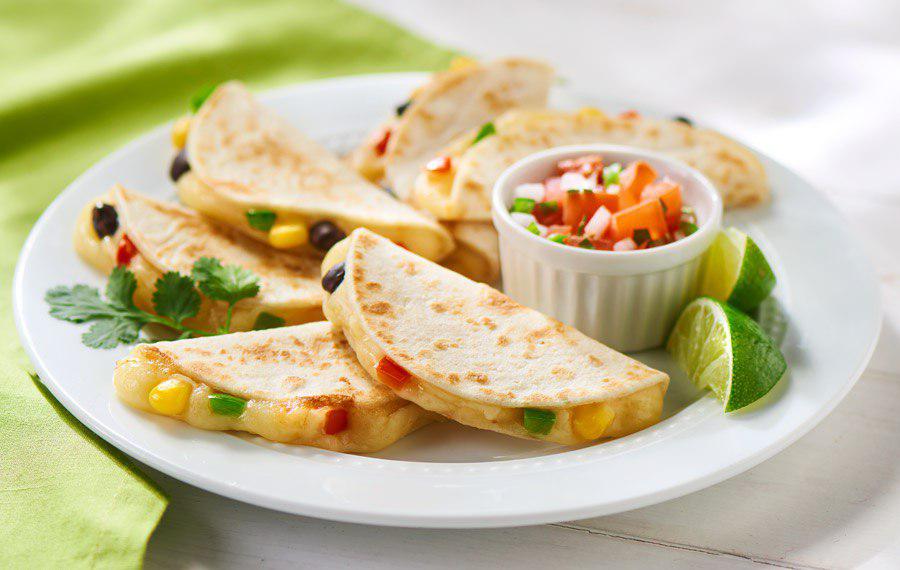 MINI BLACK BEAN & CORN QUESADILLAS
by
V & V Supremo Foods, Inc.
These appetizer-sized Black Bean & Corn Quesadillas are perfect for holiday gatherings, and friends and family are sure to enjoy the authentic combination of Chihuahua® Brand Quesadilla Cheese and veggies! These quesadillas are look great in a holiday spread and will be the hit of the party.


Ingredients
2 burrito flour tortillas, cut into 12 rounds using a circular biscuit or cookie cutter

1 Tbsp. olive oil

2 Tbsp. 2 Tbsp. chopped white onion

1 garlic clove, finely chopped

2 Tbsp. green bell pepper, small dice

2 Tbsp. red bell pepper, small dice

⅓ cup whole black beans, rinsed and drained

⅓ cup canned corn, drained

⅛ tsp. kosher salt or to taste

⅛ tsp. ground black pepper or to taste

1¾ cups Shredded Chihuahua® Cheese from V&V SUPREMO®
3 Steps to complete
1

Preheat a medium skillet over medium-heat; add oil, heat for 1 minute. Stir in onion and cook for 1 minute. Mix in garlic, cook for 30 seconds. Add green and red peppers and continue to cook for 1 minute. Mix in beans, corn, season with salt and pepper. Cook for 1 minute. Divide mixture into 12 portions and set aside.

2

Preheat a nonstick skillet or griddle for 1 minute over medium-low heat. The temperature of the skillet is important so that the tortillas do not harden or overcook before the cheese fully melts.

3

Heat mini tortillas for 10 seconds on one side, flip tortillas and add 2 Tbsp. of cheese and 1 Tbsp. veggie mixture into each tortilla. Fold in half. Cook for about 2 minutes or until lightly golden brown. Flip occasionally with spatula so they don't burn. Repeat with remaining ingredients. Serve with your favorite salsa and enjoy!
Comments
Related products
WHERE TO BUY
Missing some of the ingredients produced by VV Supremo? Find the nearest store in your area:
Find Store Now!
Store Locator
Great Places You Can Find
Our Products

Find A Store Now!
Available At
Great Places You Can Find
Our Products