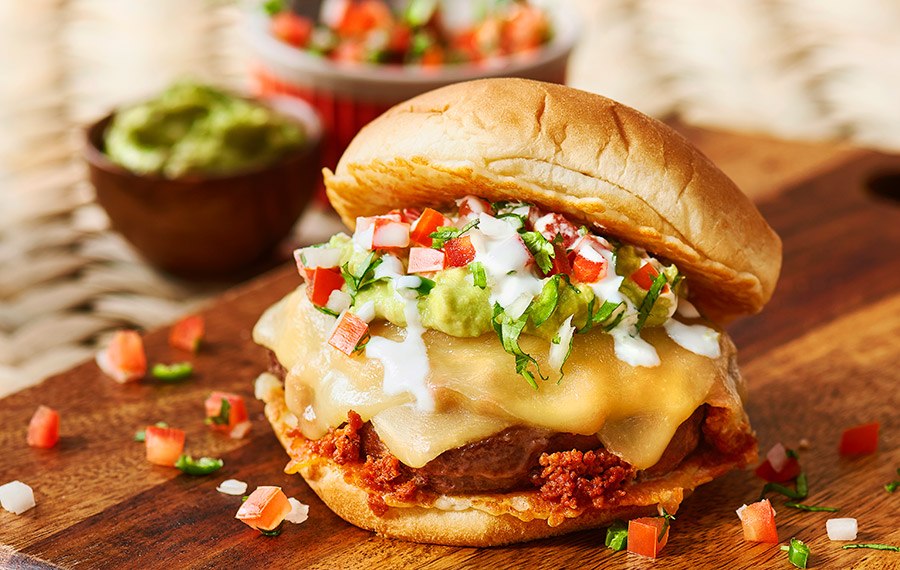 Mexican Burger with Chorizo
by
V & V Supremo Foods, Inc.
Our Mexican Burger with Chorizo brings Latin heat to spice up ordinary burgers. Top your favorite burger patty with zesty Chorizo and Chihuahua® Cheese to give that boring burger a new irresistible flavor!


Ingredients
Avocado Spread:
1/2 Avocado

1/8 tsp. Kosher salt

1 tsp. fresh lime juice
8 Steps to complete
1

In a small bowl; combine avocado, salt, and lime. Juice. Mash and mix until fully incorporated. Cover and refrigerate avocado spread until needed.

2

In a separate bowl; combine tomato, onion, cilantro, serrano pepper, and lime juice. Mix until all ingredients are thoroughly combined. Cover and refrigerate pico de gallo until needed.

3

Preheat a skiller over medium heat for 1 minute; cook and crumble chorizo with spoon for 7 to 8 minutes or until chorizo is fully cooked. Set aside until needed.

4

Preheat a cast iron skillet or grill pan for 2 minutes over medium-high heat. Follow package directions to cook burgers, or until an internal temperature of 155˚F is reached.

5

Top patties with 2 tablespoons cooked chorizo, 2 slices Chihuahua® cheese, cover, and cook for an additional 1 to 2 minutes or until cheese is melted and gooey. Remove from heat, cover and keep warm until needed.

6

Preheat a non-stick griddle or pan for 1 minute over medium-low heat; place two 2 Tablespoon portions of grated Cotija® Cheese on a griddle for each bun. Cook over medium heat for 20 to 30 seconds. Place bun top and bottom on top of each separate pile of griddled cheese and cook for an additional 20 to 30 seconds so that the griddle cheese will stick to the bun.

7

Place cooked burger patty on bun bottom, top with 1 tablespoon avocado spread, 1 tablespoon pico de gallo, 2 tablespoons sour cream, and bun top.

8

Serve Mexican Chorizo Burgers immediately and enjoy!
Comments
WHERE TO BUY
Missing some of the ingredients produced by VV Supremo? Find the nearest store in your area:
Find Store Now!
Store Locator
Great Places You Can Find
Our Products

Find A Store Now!
Available At
Great Places You Can Find
Our Products