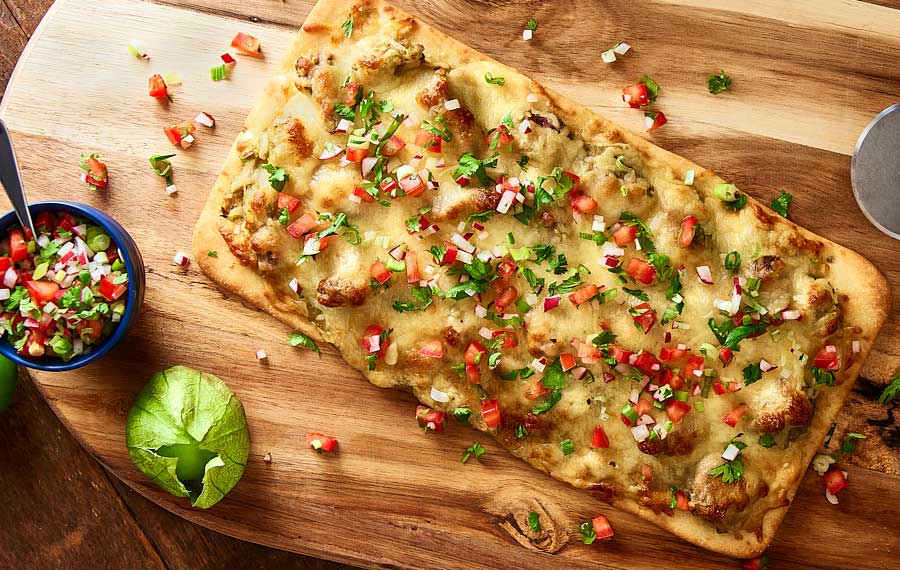 Mexican Salsa Verde Braised Pork Pizza
by
V & V Supremo Foods, Inc.
Mexican Salsa Verde Braised Pork Pizza is home cooking with heart. Tender pork is simmered in tangy green salsa and paired with the irresistible flavor of V&V Supremo's award winning Chihuahua® cheese.


Ingredients
Salsa verde:
6 tomatillos, husks removed, rinsed

¼ small white onion, peeled

1 large garlic clove, peeled

1 serrano pepper, stem removed

½ tsp Kosher salt

1/8 tsp granulated sugar

¼ cup cilantro, rough chop
5 Steps to complete
1

Preheat oven to 425F.

2

Roasted salsa: Preheat a cast iron skillet or griddle for 2 minutes over medium heat. Add tomatillos, onion, garlic, serrano pepper, and pan roast until softened and lightly charred on all sides. Place roasted vegetables in a blender, add salt, sugar, and cilantro. Blend for 30 seconds to 1 minute or until sauce is smooth.

3

Pico de gallo: in amedium bowl; combine all ingredients, tossing to combine, cover, and set aside until needed.

4

Braised pork: preheat oil in a cast-iron skillet for 2 minutes over medium-high heat. Add pork, season with salt, black pepper, onion powder, and garlic powder . Cook for 4 minutes, add roasted salsa, reduce heat to medium-low, cover skillet, and simmer for 10 minutes, stirring occasionally, or until pork reaches an internal temperature of 165F.

5

Flatbread: place flatbread on a pizza pan or oven safe tray and brush ½ teaspoon olive oil onto the outer rim of the flatbread. Evenly spread braised pork with sauce across flatbread, top with cheese, bake for 12 to 14 minutes or until cheese is golden brown. Slice, garnish with pico de gallo, serve, and enjoy!
Comments
Related products
WHERE TO BUY
Missing some of the ingredients produced by VV Supremo? Find the nearest store in your area:
Find Store Now!
Store Locator
Great Places You Can Find
Our Products

Find A Store Now!
Available At
Great Places You Can Find
Our Products