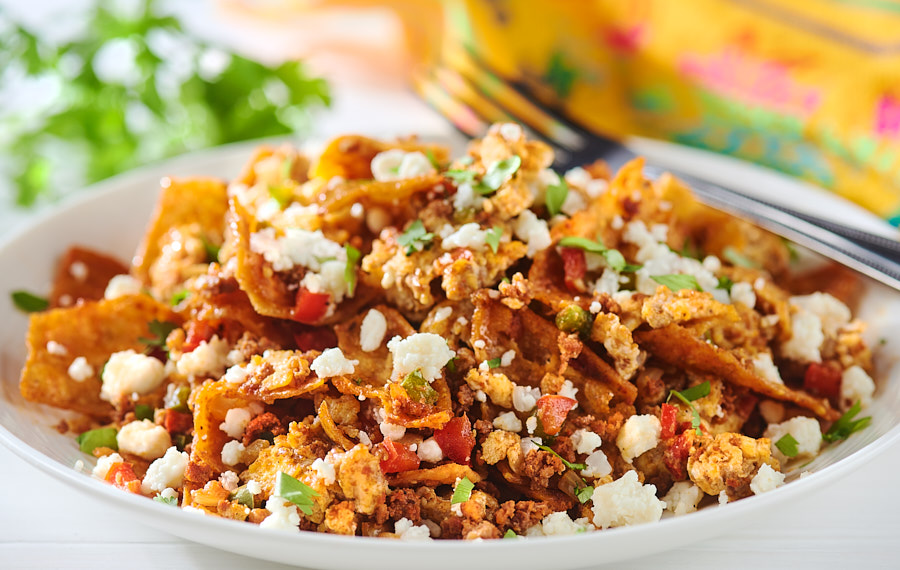 Migas with Chorizo
by
V & V Supremo Foods, Inc.
Migas are a dish in Spanish, Portuguese, Mexican, and Tex-Mex cuisine with many different variations. Our take on this dish combines Pork Chorizo, Queso Fresco, crunchy tortilla chips, and scrambled eggs. What a delicious way to show mom how much you care!


Ingredients
½ (10 oz.) pkg. V&V SUPREMO® Brand Queso Fresco Cheese, crumbled

½ cup white onion, small dice, divided

8 large eggs

⅛ tsp. kosher salt

⅛ tsp. ground black pepper

1 link from (14 oz.) pkg. Supremo® Brand Pork Chorizo from V&V SUPREMO®

2 cloves garlic, crushed

⅓ cup green bell pepper, small dice

⅓ cup red bell pepper, small dice

2 cups tortilla chips, coarsely crushed

2 Tbsp. fresh cilantro, chopped

Salsa of your choice (optional)
6 Steps to complete
1

In a bowl, mix Queso Fresco with ¼ cup of onion. Set aside.

2

In a bowl; whisk together eggs, salt, and pepper.

3

Preheat a medium skillet for 1 minute over medium heat. Remove the plastic casing from Chorizo and cook for 3 to 4 minutes, crumbling with a spoon while cooking.

4

Add remaining onion, garlic, and cook for 1 minute. Stir in bell peppers and cook for 1 to 2 minutes. Mix in crushed tortilla chips, make sure that the tortilla chips are coated with the chorizo.

5

Add eggs to the pan and cook for 2 to 3 minutes, stirring making sure that the chips are completely covered with the eggs.

6

Sprinkle with crumbled Queso Fresco mixture, cilantro, and your favorite salsa on the side. Serve Quick and Easy Migas with Chorizo and enjoy!
Comments
WHERE TO BUY
Missing some of the ingredients produced by VV Supremo? Find the nearest store in your area:
Find Store Now!
Store Locator
Great Places You Can Find
Our Products

Find A Store Now!
Available At
Great Places You Can Find
Our Products