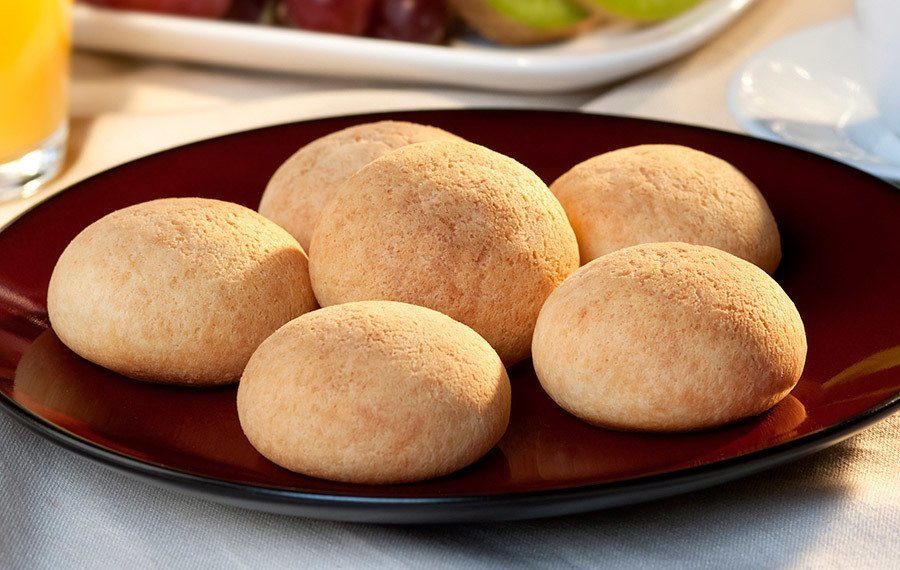 Pandebono (Colombian Cheese Bread)
by
V & V Supremo Foods, Inc.


Ingredients
14 oz. V&V SUPREMO® Brand Queso Fresco Cheese broken into chunks

½ cup tapioca flour

2 Tbsp. Pre-cooked white cornmeal (arepa flour)

2 tsp granulated sugar

1 large egg
5 Steps to complete
1

Preheat oven to 400 degrees. Line a baking sheet with parchment paper.

2

Place V&V SUPREMO® Brand Queso Fresco Cheese in food processor, and blend until it crumbles. (Approximately 15 seconds) Add tapioca flour, cornmeal (arepa flour) and sugar. Once all ingredients are well incorporated add the egg and process for 1½ minutes (until dough forms a ball). Remove dough from food processor and let rest for 15 minutes.

3

Take about 2 Tbsp. of dough and form a ball with the palms of your hands. Place cheese ball on lined baking sheet. Repeat with all dough. Press each ball lightly into baking sheet. Place another baking sheet underneath lined sheet. (To prevent bottom of rolls from over-browning.)

4

Place double baking sheet on top rack and bake for 15-18 minutes or until lightly browned on top and cooked through. Rolls should be soft on top and somewhat "bouncy".

5

Let bread rest on baking sheet for at least 15 minutes before serving.
Comments
WHERE TO BUY
Missing some of the ingredients produced by VV Supremo? Find the nearest store in your area:
Find Store Now!
Store Locator
Great Places You Can Find
Our Products

Find A Store Now!
Available At
Great Places You Can Find
Our Products