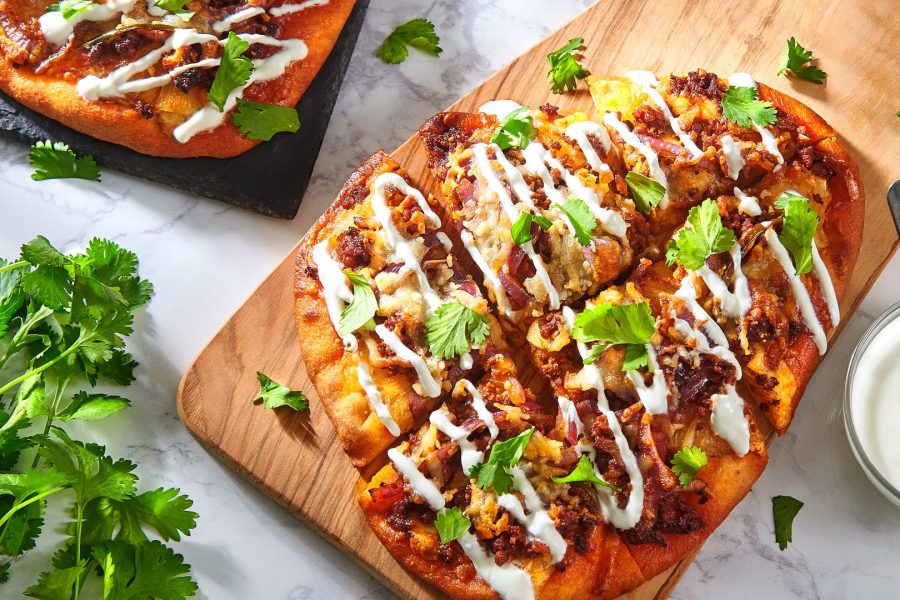 Pineapple Chorizo Flatbread Pizza
by
V & V Supremo Foods, Inc.
Pineapple Chorizo Flatbread Pizza topped with pan roasted pineapple, chorizo, Chihuahua® Quesadilla cheese, and serrano cream sauce is a flavor explosion. This hot and spicy flatbread pizza brings the heat and flavor of V&V Supremo®!


Ingredients
1 (8 oz) can pineapple slices, juice reserved

1 link from (14 oz) pkg. Supremo® Brand Pork Chorizo from V&V SUPREMO®

½ cup red onion, thin slice

1 Tbsp. garlic, minced

1 serrano pepper, seeded, sliced

3 Tbsp. white tequila

¾ cup Supremo® Brand Sour Cream from V&V SUPREMO®, divided

¼ cup plus 2 Tbsp. Grated Sierra® Brand Cotija Cheese from V&V SUPREMO®, divided

2 mini artisan flatbreads

1 Tbsp. vegetable oil

1½ cups Shredded Chihuahua® Brand Quesadilla Cheese from V&V SUPREMO®, divided

2 Tbsp. cilantro, rough chop
WHERE TO BUY
Missing some of the ingredients produced by VV Supremo? Find the nearest store in your area:
Find Store Now!
7 Steps to complete
1

Place pizza stone in oven and preheat to 350°F.

2

Preheat a cast-iron skillet for 3 minutes over medium heat. Sear pineapple slices for 2 minutes on each side or until lightly charred. Remove from heat, cut into bite size pieces and set aside until needed.

3

In the same pan; cook the chorizo for 7 to 8 minutes, crumbling while cooking, until chorizo is fully cooked. Remove chorizo using a slotted spoon and set aside until needed.

4

Add red onion, garlic, serrano pepper, tequila, 3 tablespoons reserved pineapple juice, and cook for 3 to 5 minutes or until onions tender. Remove from pan and set aside until needed. Add ½ cup Sour Cream, ¼ cup Cotija Cheese, and simmer for 1 minute over medium-low heat. Remove from heat and set aside until needed.

5

Brush flatbreads with vegetable oil along outer edge. Evenly spread cream sauce across each flatbread, leaving a ½-inch boarder. Top each flatbread with ½ cup shredded Chihuahua® Cheese. Top each flatbread with pineapple, chorizo, and onion mixture and remaining Chihuahua®and Cotija cheese.

6

Place flatbreads on pizza stone and bake for 12 to 15 minutes or until cheese is melted and lightly browned.

7

Remove flatbreads from oven, slice, and garnish with remaining ¼ cup sour cream and cilantro. Serve and enjoy!
Store Locator
Great Places You Can Find
Our Products

Find A Store Now!
Available At
Great Places You Can Find
Our Products