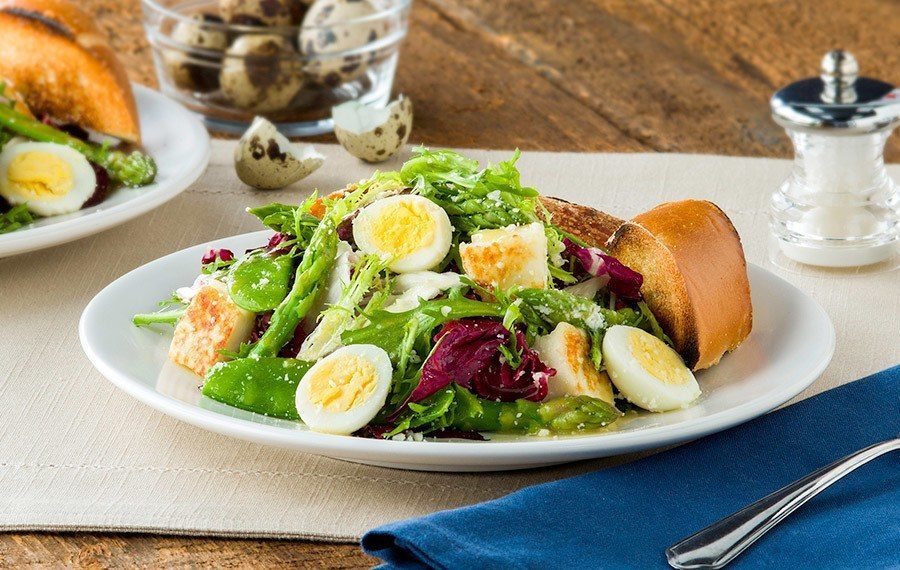 Quail Egg Salad
by
V & V Supremo Foods, Inc.
Toss together feathery frisee and tender radicchio along with seared Del Caribe® Brand Queso Blanco Cheese in this feast for the senses. Hard-boiled quail eggs and champagne vinaigrette round out this elegant Quail Egg Salad.


Ingredients
Vinaigrette
1 Tbsp. shallot, minced

2 Tbsp. champagne vinegar

¼ tsp. Kosher salt

¼ tsp. ground white pepper

2 cloves garlic, crushed

1 Tbsp. fresh lemon juice

2 Tbsp. honey

1 Tbsp. freshly squeezed orange juice

2 Tbsp. Dijon mustard

¼ Cup extra virgin olive oil
7 Steps to complete
1

In a medium bowl; combine shallots, vinegar, salt, pepper, garlic, lemon juice, honey, orange juice, and mustard. Whisk until all components are well incorporated. Gradually pour the olive oil in a thin steady stream while whisking. Continue whisking until the mixture has emulsified completely. Cover and refrigerate until needed.

2

Bring 4 cups water to a boil over high heat. Blanche asparagus in boiling water for 1 to 2 minutes or until slightly tender. Shock blanched asparagus in an ice bath to halt cooking. Drain asparagus on a plate or tray lined with paper towel.

3

Add snow peapods to boiling water and blanche for 1 to 2 minutes or until bright green. Remove from water and shock in ice bath. Drain on a plate or tray lined with paper towel.

4

Carefully add quail eggs to boiling water and cook for 4 minutes. Remove eggs from pot and place in ice bath. When eggs are cool enough to handle; remove shells and cut in half.

5

Preheat a nonstick griddle or comal for 1 minute over medium high heat. Sear Del Caribe® Cheese for 2 minutes each side until golden brown. Cut into ½-inch cubes and set aside.

6

Wipe the skillet with a paper towel. Toast bread for 2 minutes on each side. Cut toasted slices diagonally to form triangles. Set aside.

7

In a large salad bowl; combine frisee, radicchio, asparagus, snow peas, halved quail eggs, Del Caribe® cheese, and Cotija Cheese. Add ½ cup of vinaigrette and gently toss to combine. Serve Quail Egg Salad with toasted bread and enjoy!
Comments
WHERE TO BUY
Missing some of the ingredients produced by VV Supremo? Find the nearest store in your area:
Find Store Now!
Store Locator
Great Places You Can Find
Our Products

Find A Store Now!
Available At
Great Places You Can Find
Our Products