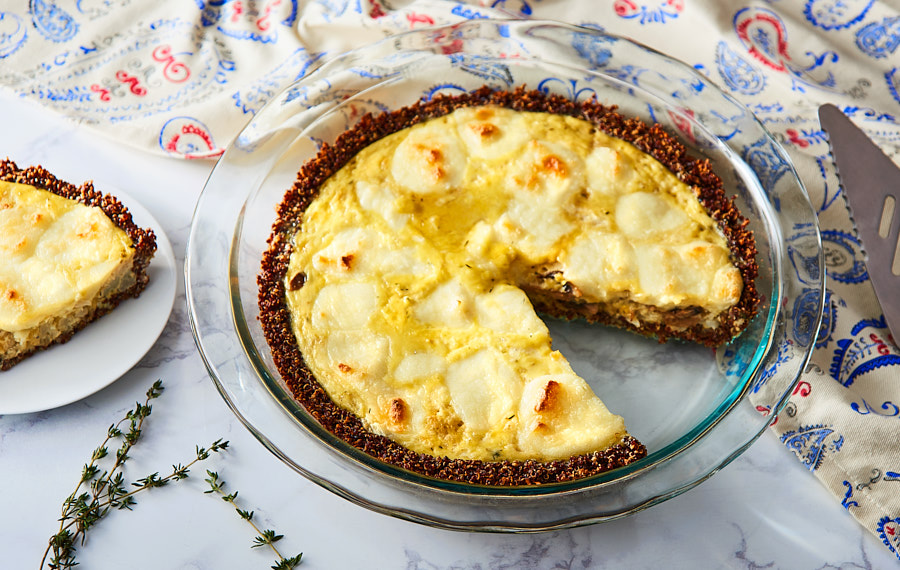 Quinoa Crust Quiche
by
V & V Supremo Foods, Inc.
If you are looking to add an even healthier twist on quiche, how about trying a Quinoa Crust Quiche? Hearty, satisfying and filling breakfast!


Ingredients
Crust
1 cup water

½ cup uncooked red quinoa, well rinsed

½ cup Grated Sierra® Brand Cotija Cheese from V&V SUPREMO®

cooking spray
6 Steps to complete
1

Preheat a conventional oven 375°F.

2

Crust: In a small saucepan add water and rinsed quinoa. Bring to a boil over high heat, cover with lid and reduce heat to low. Simmer for 12-15 minutes or until all of the water has evaporated. Remove the saucepan from heat. Uncover and let stand until cool, about 5 minutes. Combine Cotija cheese with quinoa in a medium bowl. Set aside.

3

Spray a 9-inch pie dish with cooking spray and press the quinoa mixture evenly into the bottom and all the way up the sides of the pie plate. Bake for 12 minutes, until just golden brown and starting to crisp. Remove when done.

4

Quiche: Preheat medium cast iron skillet on high heat for 2 minutes. Add oil, cauliflower florets, and sauté for 2-3 minutes. Mix in mushrooms and sauté for 1 minute. Add garlic, thyme, salt and pepper. Cook for 1 minute. Set aside.

5

Cheese: Brake Queso Fresco Cheese in half, then into medium-size chunks. Set aside.

6

Mix eggs, sour cream, Chihuahua® cheese, and vegetable mixture in a medium bowl until well combined. Pour over crust. Top with Queso Fresco Cheese and 2 sprigs of thyme. Bake quiche for 30 minutes, until filling is set. Let cool for 5 minutes. Cut into wedges and enjoy!
Comments
Related products
WHERE TO BUY
Missing some of the ingredients produced by VV Supremo? Find the nearest store in your area:
Find Store Now!
Store Locator
Great Places You Can Find
Our Products

Find A Store Now!
Available At
Great Places You Can Find
Our Products