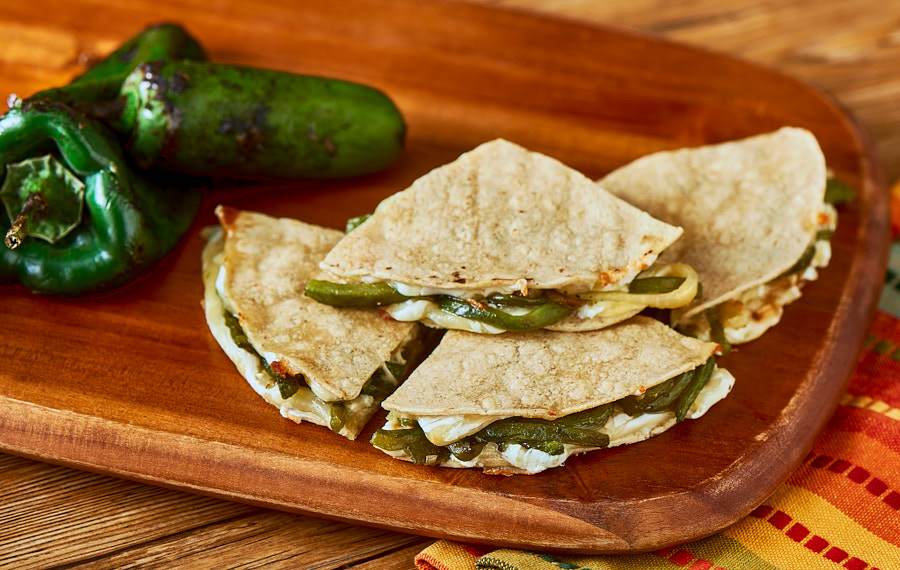 Roasted Poblano Quesadilla
by
V & V Supremo Foods, Inc.
Roasted Poblano Quesadilla are a fast and fiery snack! Spicy roasted peppers are a great match for the delicious flavor of V&V Supremo® Chihuahua® Quesadilla Cheese.


Ingredients
2 poblano peppers

1 medium jalapeño pepper

1 Tbsp olive oil

¼ medium-sized white onion, half-moon slices

1 garlic clove, crushed

¼ tsp Kosher salt

⅛ tsp ground black pepper

4 corn tortillas

1 cup Shredded Mexican 3 Cheese Blend from V&V SUPREMO®
4 Steps to complete
1

Roast peppers: place the peppers directly onto the open flame of a gas stove. Turn with tongs frequently until the skin is wrinkled and charred, about 5 minutes. Place peppers in a bowl, covered, for 5 minutes to allow peppers to steam. Remove pepper skins using a paper towel. Cut peppers open and remove seeds. Cut cleaned peppers into thin strips, and cut any long strips in half. Set aside.

2

Quesadilla filling: heat oil in a skillet over medium-heat for 1 minute; add onion and sauté for 1 minute, add garlic and sauté for an additional 30 seconds. Add poblano, jalapeño, salt, and pepper. Remove from stove, divide mixture into 4 portions, and set aside.

3

Assemble quesadillas: preheat a skillet or pan for 1 minute over medium-low heat. The temperature on the skillet is important so that the tortillas do not harden or overcook before the cheese fully melts.

4

Place tortilla on griddle, warm for 1 minute on one side. Flip tortilla, add ¼ cup Mexican 3 cheese blend. Add 1 portion of the poblano mixture, fold tortillas in half, and cook until quesadillas are golden brown and cheese has fully melted. Flip occasionally with spatula so they don't burn. Repeat with remaining tortillas. Serve and enjoy!
Comments
Related products
WHERE TO BUY
Missing some of the ingredients produced by VV Supremo? Find the nearest store in your area:
Find Store Now!
Store Locator
Great Places You Can Find
Our Products

Find A Store Now!
Available At
Great Places You Can Find
Our Products