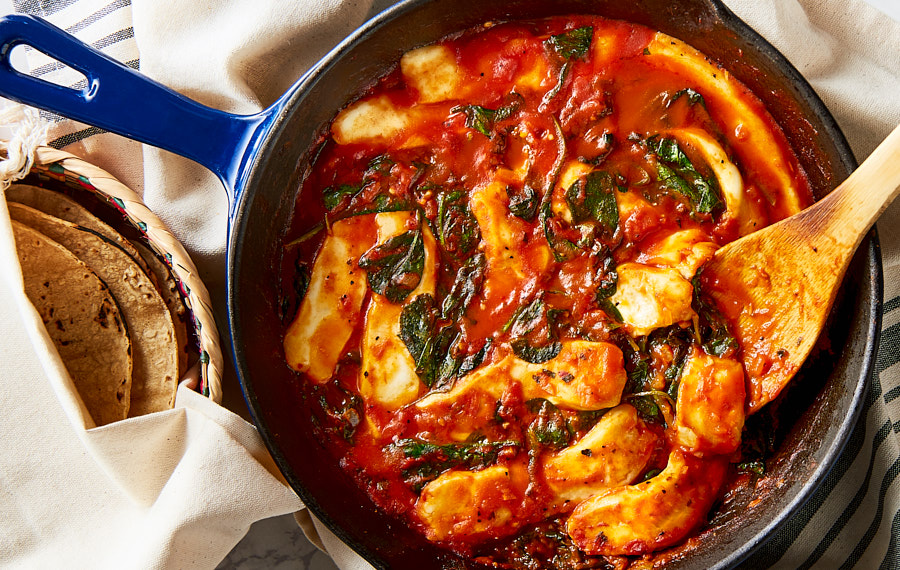 Spinach with Tomato Sauce and Cheese
by
V & V Supremo Foods, Inc.
Looking for a meatless dish that's simple to put together? Choose this easy, one-pan recipe! Spinach with Tomato Sauce and Cheese is perfect for a warming and hearty meal!


Ingredients
1 (8 oz.) pkg. Del Caribe® Brand Queso Blanco Cheese from V&V SUPREMO® cut into 12 slices, then into half widthwise

1 Tbsp. olive oil

½ Tbsp. unsalted butter

½ cup white onion, finely diced

1 Tbsp. garlic, minced

½ tsp. granulated sugar

½ tsp. fresh basil, chopped

¼ tsp. crushed red pepper

¼ tsp. dried oregano

¼ tsp. ground black pepper

⅛ tsp. kosher salt

1 cup tomato puree

¼ cup water

1 (5 oz.) pkg. fresh baby spinach

Optional Corn or flour tortillas
3 Steps to complete
1

Pre heat a medium pan over medium heat for 2 minutes.

2

Add olive oil and butter. When butter melts, add onion and sauté for 1 minute. Add garlic and sauté for 30 seconds. Add sugar, basil, crushed red pepper, oregano, black pepper, salt, and stir.

3

Stir in tomato puree and water. Cook for 2-3 minutes on medium-low heat. Mix in spinach and cover pan with lid, cook for 1 minute. Add in cheese and cover pan for 2 minutes or until cheese has slightly melted. Serve with your favorite tortillas or as a side dish. Enjoy!
Comments
Related products
WHERE TO BUY
Missing some of the ingredients produced by VV Supremo? Find the nearest store in your area:
Find Store Now!
Store Locator
Great Places You Can Find
Our Products

Find A Store Now!
Available At
Great Places You Can Find
Our Products