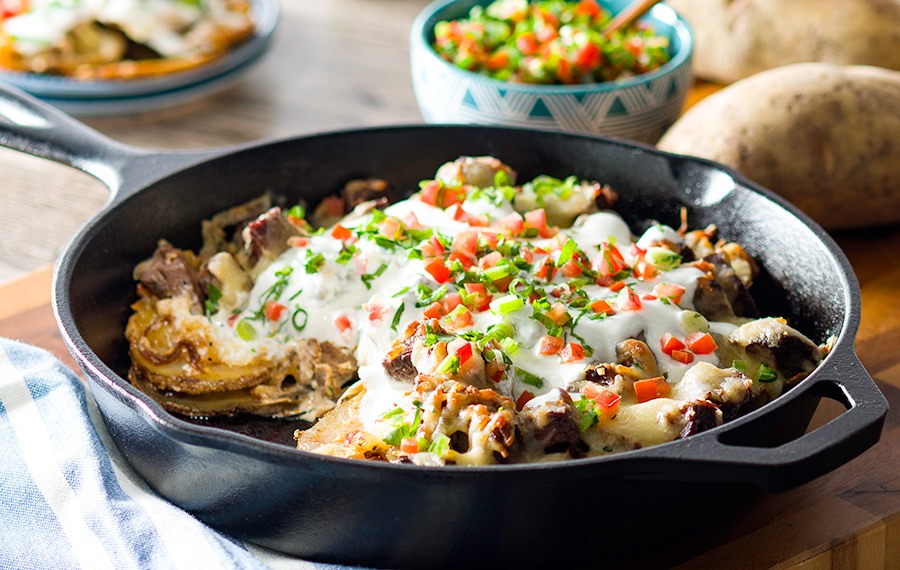 Steak & Potato Skillet
by
V & V Supremo Foods, Inc.
Presenting a delicious recipe composed of tender bites of steak, onion and layers of potatoes, all covered with melted cheese. Try it!


Ingredients
Steak Marinade
1 lb. flank steak, cut into bite sized pieces

1½ cups white onion, thinly sliced

1 Tbsp. lime juice

2 Tbsp. olive oil

½ tsp. garlic powder

½ tsp. kosher salt

1 tsp. black pepper
8 Steps to complete
1

Steak Marinade: In a medium bowl combine steak, onion, lime juice, olive oil, garlic powder, salt, and pepper. Cover with plastic wrap and refrigerate for 20 minutes.

2

Pre-heat oven to 425°F.

3

Scallion Pico de Gallo: In a small bowl combine tomato, scallion, cilantro, jalapeño, lime juice, and salt. Cover with plastic wrap and refrigerate until ready to use.

4

Skillet: Place potato rounds into a large bowl with 2 Tbsp. olive oil, paprika, garlic powder, black pepper, and kosher salt. Toss potatoes until well coated. Place potatoes on a rack atop a sheet tray and bake for 12 minutes.

5

Pre-heat an 8-inch cast iron skillet on high heat for 2 minutes. Add in ½ Tbsp. of olive oil, heat for 10 seconds. Add in marinated steak and onions, cook for 2 minutes. Remove meat and onions from skillet onto a bowl.

6

On the same skillet, place half of the potatoes around the skillet to cover the bottom. Add half the amount of flank steak and onions on top, add 1 cup shredded Chihuahua® cheese on top of the steak and onions.

7

Place another layer of potatoes on top of the cheese and add remaining steak and pan drippings, top with remaining Chihuahua® cheese. Place skillet in oven for 8 minutes at 425°F.

8

Once ready, spoon sour cream on top while skillet is warm and Scallion Pico de Gallo. ENJOY!
Comments
WHERE TO BUY
Missing some of the ingredients produced by VV Supremo? Find the nearest store in your area:
Find Store Now!
Store Locator
Great Places You Can Find
Our Products

Find A Store Now!
Available At
Great Places You Can Find
Our Products