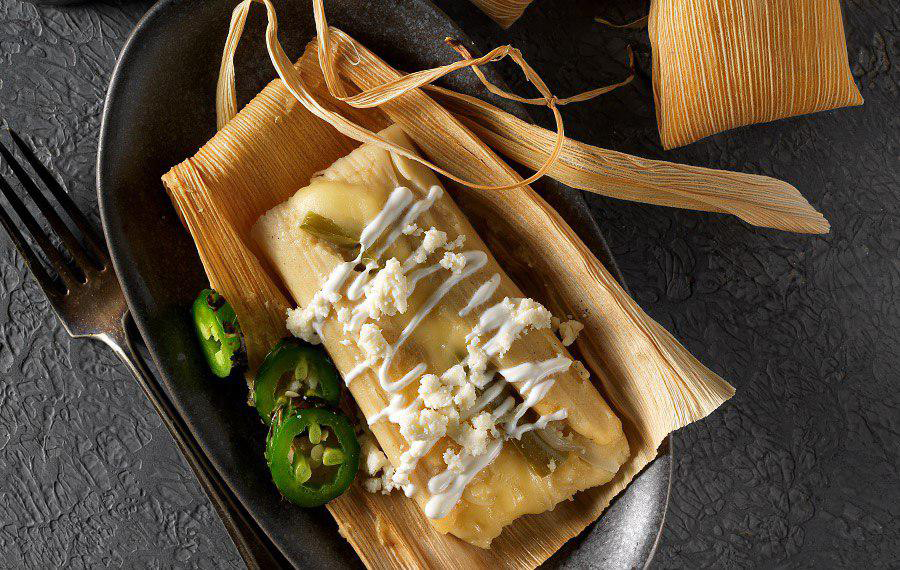 Tamales with Cheese and Jalapeño
by
V & V Supremo Foods, Inc.
With this delicious and simple recipe, you will enjoy one of the most delicious traditions of Latin America. Tamales with Cheese and Jalapeño … Enjoy!


Ingredients
Dough
20 dried corn husks, reserved 4 husks

1 medium steamer pot

1 1/3 cups vegetable shortening

4 cups instant corn masa for tamales

2 2/3 cups vegetable broth

2 tsp. baking powder

2 tsp. kosher salt
9 Steps to complete
1

Soak corn husks in warm water using a plate to keep them submerged for at least 30 minutes or until pliable and set aside.

2

Cut each halved jalapeño into thirds and set aside.

3

Pre-heat a medium pan with vegetable oil for 2 minutes on medium heat. Add onion and cook for 1 minute. Add garlic and cook for 30 seconds. Add jalapeños, salt, and pepper, sauté for 2 minutes and set mixture aside.

4

Drain corn husks; pat dry with paper towels. Set aside.

5

Using an electric mixer and paddle attachment, whip vegetable shortening on high speed for 2½ minutes, scrape down bowl, and whip for 2½ minutes.

6

Add in corn masa, baking powder, salt, and vegetable broth. Beat mixture for 7½ minutes on medium speed. Stop mixture and scrape bowl. Continue mixing for 7½ more minutes. Remove bowl and begin assembling tamales.

7

To assemble: Spread 1/3 cup of corn dough onto the wider side of the corn husk to ¼ inch thickness. Place 2 slices of jalapeño and some of the onion on center of dough, add 3 Tbsp. Chihuahua® cheese, and another slice of pepper. Fold the sides of the husk toward the center and fold the smaller end of the husk up towards the wider side of the husk.

8

Set up a steamer basket in a large pot with water (making sure bottom of steamer does not touch water). Arrange the tamales standing up in the steamer. Cover tamales with remaining corn husks, and bring the water to a boil over high heat. Reduce the heat to low, cover and cook tamales for 1 hour. Remove from the steamer and let rest 5 minutes before unwrapping.

9

Serve with drizzled sour cream and queso fresco on top, enjoy!
Comments
Related products
WHERE TO BUY
Missing some of the ingredients produced by VV Supremo? Find the nearest store in your area:
Find Store Now!
Store Locator
Great Places You Can Find
Our Products

Find A Store Now!
Available At
Great Places You Can Find
Our Products