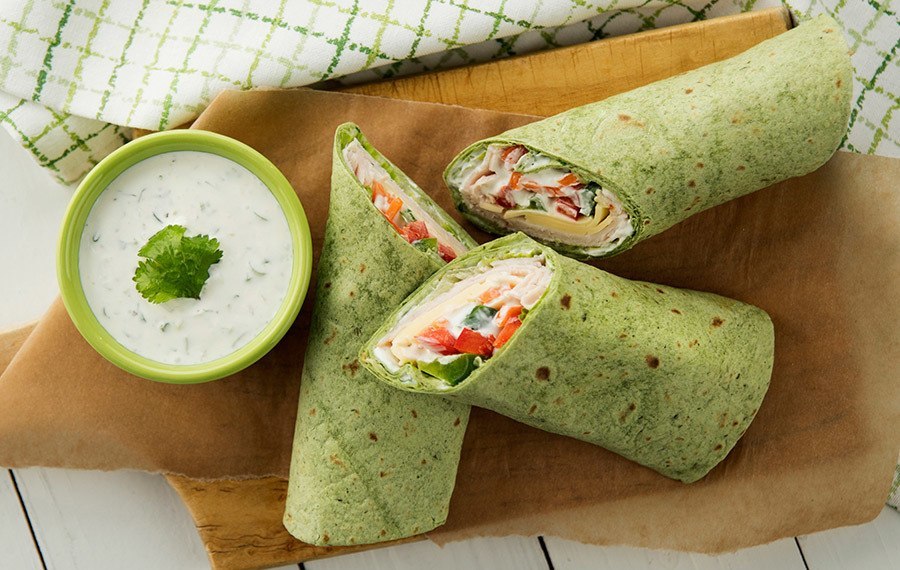 Turkey Tortilla Roll-Ups
by
V & V Supremo Foods, Inc.
The perfect snack is here! It's as easy as turkey, veggies and cheese rolled up in a tortilla with a creamy cucumber spread.


Ingredients
1 (15 oz.) Supremo® Brand Mexican Sour Cream from V&V SUPREMO®

1 cup cucumber, diced

2 scallions, chopped

2 Tbsp cilantro, chopped

1 Tbsp lemon juice

½ tsp fresh ground black pepper or to taste

½ tsp kosher salt or to taste

4 (10 inch) spinach flour tortillas

4 romaine lettuce leaves

½ lb deli-sliced turkey

8 slices Chihuahua® Brand Quesadilla Cheese from V&V SUPREMO®

1 carrot, peeled, sliced lengthwise into ½ -inch strips

½ green bell pepper, sliced lengthwise into ½ -inch strips

½ red bell pepper, sliced lengthwise into ½ -inch strips
5 Steps to complete
1

In a medium bowl mix sour cream, cucumber, scallions, cilantro, lemon juice, black pepper and salt, mix until thoroughly blended.

2

Preheat a griddle for 1 minute over medium low heat. Heat tortillas for 10 seconds on each side.

3

Spread about 2 Tbsp. of the sour cream mixture over the tortillas make sure that it covers the entire tortilla.

4

Lay 1 lettuce leaf, 2 slices of turkey, 2 slices of Chihuahua® cheese, fold cheese in half, place about 4-6 strips each of the carrot and peppers, making sure they extend to both ends, add 1Tbsp. of the spread on top of the veggies.

5

Roll up the tortilla as tightly as you can. Slice in half diagonally. Serve with more of the sour cream spread on the side and enjoy!
Comments
Related products
WHERE TO BUY
Missing some of the ingredients produced by VV Supremo? Find the nearest store in your area:
Find Store Now!
Store Locator
Great Places You Can Find
Our Products

Find A Store Now!
Available At
Great Places You Can Find
Our Products