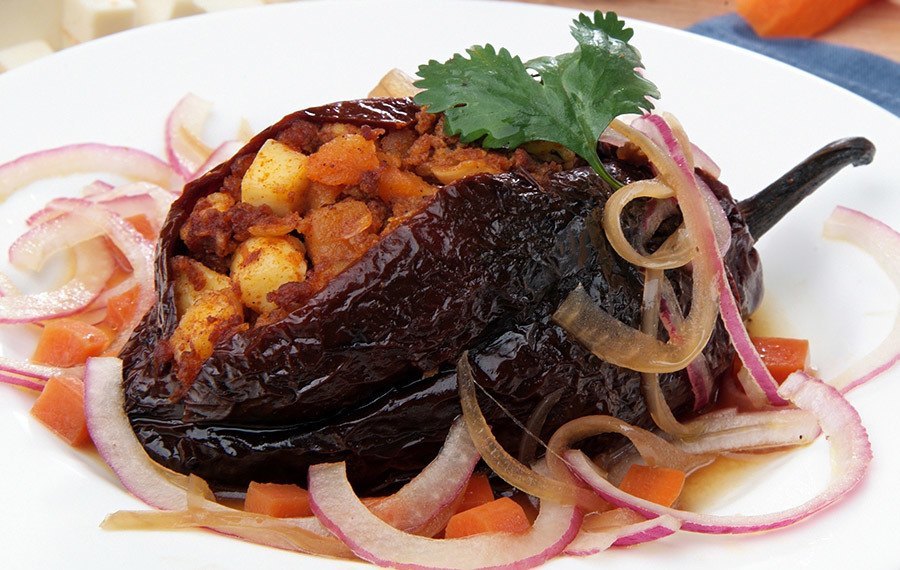 Anchos Rellenos
by
V & V Supremo Foods, Inc.
Poblano peppers are most often associated with chiles rellenos yet the following authentic Mexican recipe, Anchos Rellenos, is a delicious variation found in Central Mexico.


Ingredients
Escabeche
3 cups water

1½ cups apple cider vinegar

5 oz. piloncillo, or 1/2 cup brown sugar (packed firm)

8 large cloves garlic, sliced

12 whole bay leaves

2 tsp. ground allspice

salt to taste

2 tsp. black pepper, ground

1 cinnamon stick, (4 inches approximately)

1 large red onion, sliced thin

4 carrots, peeled and diced

½ cup extra virgin olive oil

6 whole ancho peppers with stems
11 Steps to complete
1

For escabeche: Place a medium saucepan over medium heat. Combine water, apple cider vinegar, piloncillo or brown sugar, garlic, bay leaves, allspice, black pepper, cinnamon and bring to boil. Add ½ Tbsp. of salt. Reduce heat to low and simmer 15 minutes.

2

Remove from heat. Let cool and strain into a glass bowl. Discard solids.

3

Preheat a medium pan over medium heat for one minute. Add olive oil, heat for 1 more minute. Add onions, carrots and sauté for 3 minutes. Add salt (about ¼ tsp) or to taste. Remove from heat and add to escabeche mixture.

4

Prepping Chiles Anchos: Place a griddle or dry skillet over medium heat. Place anchos on skillet and toast for about 30 seconds on each side, pressing down with a metal spatula.

5

Remove peppers from skillet. Make a slit across length of each pepper and remove seeds. Leave stems intact.

6

Place the anchos in the escabeche mixture. Place a plate over anchos to hold them down. Marinate in the refrigerator for ½ hour or until soft.

7

For filling: In large skillet over medium heat, cook the chorizo for 7 minutes. Add onions and oregano, cook for 2-3 minutes.

8

Add potatoes, and cook for 3-4 minutes.

9

Add cheese and mix well.

10

Stuff each ancho with the potato and chorizo mixture.

11

Arrange peppers on platter and top with escabeche.
Comments
WHERE TO BUY
Missing some of the ingredients produced by VV Supremo? Find the nearest store in your area:
Find Store Now!
Store Locator
Great Places You Can Find
Our Products

Find A Store Now!
Available At
Great Places You Can Find
Our Products