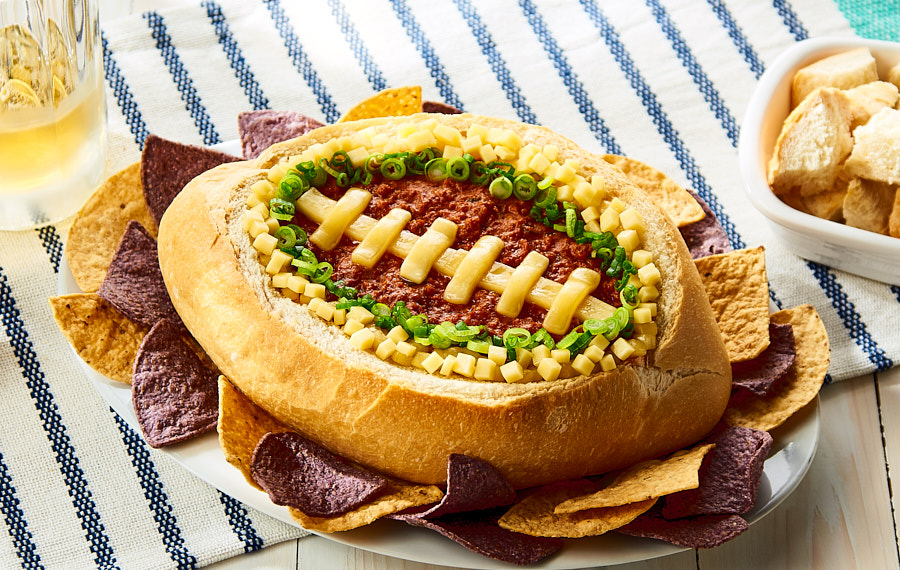 Chili Chorizo Bean Dip
by
V & V Supremo Foods, Inc.
Chili Chorizo Bean Dip is perfect for big appetites before the big game! This winning appetizer combines melted Chihuahua Quesadilla Cheese, smooth Mexican-style sour cream, and perfectly seasoned Chorizo from V&V Supremo. Share this delicious recipe with your team, and score a flavor touchdown!


Ingredients
1 (16 oz) Italian bread oval shaped loaf

1 (14 oz) pkg Supremo® Brand Pork Chorizo from V&V SUPREMO®

¼ cup white onion, finely chopped

1 tsp garlic, minced

1 (16 oz can) refried pinto beans

½ cup Supremo® Brand Sour Cream from V&V SUPREMO®

2 (12 oz) pkg Chihuahua® Brand Quesadilla Cheese from V&V SUPREMO®

2 Tbsp green onion, chopped
4 Steps to complete
1

Bread bowl: Cut top of bread loaf in an oval shape, leaving a 2-inch border. Cut bread top into bite size cubes and set aside. Hollow out loaf bottom, leaving a ½-inch shell on the sides and bottom of bread.

2

Cheese decorations for football: Slice ¼ from the side of the 1st Chihuahua® Quesadilla Cheese Wheel. Cut one 1/8-inch thick slice, lay it flat, and slice again in half lengthwise, and set aside. Cut a 2nd 1/8-inch thick slice, cut into thirds lengthwise, lay slices flat and cut in half to make six strips, and set aside. Cut remainder from this ¼ of the cheese into small cubes, and set aside. Cut the remainder of the two Chihuahua® cheese wheels into medium cubes. Set aside until needed.

3

Chorizo: Preheat a medium pan for 2 minutes over medium heat. Add chorizo and cook for 7 minutes, crumbling with a spoon while cooking. Add onion, garlic, and cook for 1 minute and 30 seconds, add refried beans, sour cream, and cook for 3 minutes. Add ½-inch cubes of Chihuahua® cheese, continue to cook for 1 minute.

4

Assemble: Carefully pour dip into hollowed-out bread. Place the two 4½-inch slices of Chihuahua cheese lengthwise along the center of the football, then arrange the small slices across bread to form football stitches. Line perimeter with small dice cheese cubes followed by scallions. Serve with diced bread top, chips, or crackers and enjoy!!!
Comments
WHERE TO BUY
Missing some of the ingredients produced by VV Supremo? Find the nearest store in your area:
Find Store Now!
Store Locator
Great Places You Can Find
Our Products

Find A Store Now!
Available At
Great Places You Can Find
Our Products