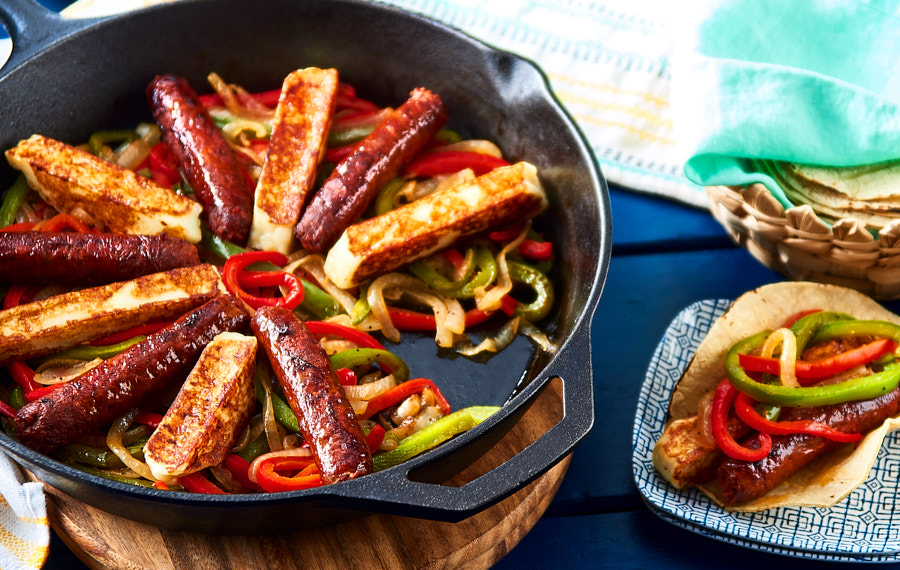 Chorizo and Cheese Fajitas
by
V & V Supremo Foods, Inc.
Sautéed bell peppers and onions, chorizo and cheese.
Flavors combined on a tortilla.
Chorizo and Cheese Fajitas, a celebration of colors, aromas, and flavors. Enjoy!


Ingredients
1 (8 oz.) pkg. Del Caribe® Brand Queso Blanco Cheese from V&V SUPREMO®

1 (11oz.) pkg. Chihuahua® Brand Pork Chorizo for Grilling from V&V SUPREMO®

1 Tbsp. vegetable oil

1 medium white onion, sliced into strips

1 Tbsp. garlic, chopped

1 medium red bell pepper, sliced into strips

1 medium green bell pepper, sliced into strips

¼ tsp ground black pepper

½ tsp kosher salt

corn tortillas
5 Steps to complete
1

Slice del Caribe cheese lengthwise into 6 even pieces. Set aside.

2

Preheat a medium pan for 5 min. on low heat. Add in chorizo links and cook for 5 minutes with lid on. Remove lid and continue to cook chorizo for 15 minutes (rotate links every 5 minutes for even cooking). Remove from pan and keep warm.

3

Add 1 Tbsp. of vegetable oil to large cast iron pan and heat on medium high for 2 minutes. Add onion, garlic, bell peppers, cook for 1 minute, season with salt, and pepper and sauté for 8 minutes on a medium heat. Once done. Turn heat to low, and leave peppers in the skillet.

4

Preheat a medium sized nonstick skillet for 2 minutes over medium heat. Place cheese slices, and sear each side for 1 minute on each side or until golden brown. Set aside.

5

Arrange cooked chorizo and sear cheese on top the vegetables. Serve with warm corn tortillas. Enjoy!
Comments
WHERE TO BUY
Missing some of the ingredients produced by VV Supremo? Find the nearest store in your area:
Find Store Now!
Store Locator
Great Places You Can Find
Our Products

Find A Store Now!
Available At
Great Places You Can Find
Our Products